On Monday, Apple hosted its first in-person event since the pandemic.  WWDC22 was invite only with the weeklong developer event remaining online.  It  was great to be back at Apple's headquarters.   WWDC kicked off with Tim Cook's keynote address and an epic highly produced presentation that would make any Hollywood special effects artist impressed.
Cook announced Apple's focus to bring all of its operating platforms together with enhancements and new features that impact the following:
A large part of the conference had to do with the many polishes and refinements coming to iOS 16 that you'll be excited about.   For me, there were updates I especially am excited about.
What's new in iOS 16?
As you'll see below, it's all about personalization.
Lock Screen new and improved
Apple designers have reimagined the iPhone Lock Screen that lets you personalize it with custom features.  For example, I can choose to have my main image background on my locked iPhone be live weather wallpaper.
Yes, Apple's coined a new word "glanceable" for Webster's dictionary to consider adding.
I can add all sorts of "glanceable" information in the form of little widgets.  Notifications will now roll in from the bottom of the screen.   Live activities can also be added to the Lock Screen such as music, sports scores, activity rings from fitness, and calendar information like the time of my next meeting.
You can make several different Lock Screens to suit your mood or focus of what you want to see when working or when spending time with family and friends.  A fun color washing feature can take photos and creatively blend colors to make for a unique expression.
I love the idea that I can put helpful info on the Lock Screen that in a flash puts my mind at ease.  Such as my Home front door lock will quickly show if I remembered to lock up when I left home and display the current air conditioning temp inside.
How to change elements on a Lock Screen
Press and hold to customize, then swipe to change between fonts, color, and styles.
Tap on any element on the Lock Screen to customize further.
It could not be any easier to unleash the creative designer in you to make an enviable Lock Screen that gives you "Glanceable" information.
Messages can be edited and unsent after you send them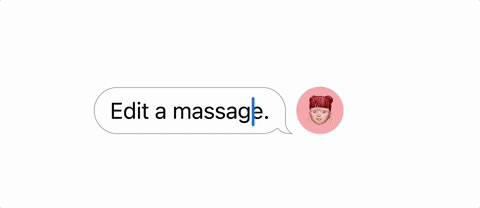 Out of all the updates, I'd say these updates are ones we can all get excited about.
Three new Messages features you'll love in messages.  When your fingers work faster than your brain and you accidentally send an embarrassing text, the new iOS 16 will save you.
Edit text after you send it
"Undo send" will recall a message after its recently sent with this new feature
Mark any message or thread as unread.
These new undo and redo features could prove more useful than a delete key.
Dictation is more intuitive
Voice dictation and touch come together in iOS 16.  From now on, your keyboard will stay open on screen while you are dictating.
That's because you can now fluidly move between voice and touch.  Meaning, for example, you can highlight text by touch and voice dictate a replacement phrase.
Auto-punctuation in text
When you type longer text, iOS 16 will now automatically punctuate your sentences.  (the audience at Apple's WWDC event went wild with applause over this innovation)
Live Text and Visual Lookup
Capture live text from video
When you are watching a video, simply pause it to highlight text within the video frame and copy the text to paste elsewhere.  We've seen this work in photos and it is remarkable and useful.
Translate text in a photo
Imagine you are traveling in a foreign country.  You can aim your iPhone at a sign or menu.  Translate camera will replace the text in your desired language.
Visual lookup reads photos
Now you can tap parts of a photo to lookup more information about it.  Machine learning has advanced enough to identify with greater certainty what's in a photo.
Pull something out of a photo
Don't like the background of a photo?  Touch and hold the main subject in a photo and now pull it off the background.  This image edit tool lets you pull an image away from its background seamlessly.  No photoshop needed!
Apple Wallet
We've grown accustomed to Apple Wallet being the home to numerous boarding passes when we travel.
Now 11 US states have moved their Driver's License credentials over to Apple Wallet.
At some TSA airport security checkpoints, they are accepting Apple Wallet as identification.
The future of Apple Wallet is about keys.   From hotel, office, home to your car, you will now be able to share a key with someone else.
Apple has also made the standard open to other platforms so you can expect it to be able to work on non-Apple devices in the future.
Apple Pay is expanding to tap to pay on iPhone with merchants not needing any additional hardware.
They are also adding order tracking of items purchased by using Apple Pay.  And ability to manage scheduled payments.
Apple Pay Later makes it more like a finance company
Apple Pay Later is a new feature when using Apple Pay that allows you to purchase an item and make 4 payments over time without finance charges.
Apple Pay Later is another example of how the Cupertino hardware maker is thinking less about hardware and more about services including financial services.
This may incentivize reluctant merchants to accept Apple Pay and for consumers to use Apple Pay in order to get the terms of Pay Later.
My friend Jeffrey reminded me of the value of flexible payments over time when he recounted his first TV purchase.  He was young, had not yet grown his credit, and did not have the spending cash for the TV he wanted.  Home Shopping Network let him buy that TV with their flex payment plan which made it more affordable.
Apple Pay Later could help with future hardware sales of its own as prices for everything are continuing to rise.
Apple Maps
Apple says it is updating the Maps with details and 3d imagery around cities.  New features on Apple Maps:
Multistop routing – can add up to 15 stops to one route
Save multi-stop routes on iPhone and you can ask Siri to add additional stops as you drive
Transit function – you can add transit cards to your wallet and fare prices will now display with greater frequency.
Sports
Apple News adds My Sports to follow highlights and news from favorite teams.   Scores and updates of an active game can be displayed on your Lock Screen.
Family Sharing
iOS 16 adds a new feature called Family Checklist.  It will help family members with awareness of what is shared with each other. It also has evolved tools for parents to update restrictions for kids as they grow.
iCloud Photo Shared Library with up to 5 other people will do some amazing things for sharing photos with the family.   It's a separate iCloud library that all family members can share.  In-camera you can send photos directly to the shared library.
When taking photos you can share as you capture pictures with your camera.  You have the choice to turn the Shared Library on and off from your camera setting.
Personal Safety
Apple has created a personal safety tool to quickly turn off shared location and access to devices.
Safety Check is designed with abusive relationships in mind.   You can review and reset that access that has been granted to others.  Quickly revoke data and cut ties.
'Emergency Reset'
If you find yourself in personal danger, you can instantly stop sharing your location, reset privacy permissions, and protect access to your messages.  It will also sign you out of iCloud on all of your other devices whether in your position or that of an abuser.
Apple Home app
Apple has completely refreshed the design and interface of its Home app.  The new Home app layout helps you access and manage all of your smart home devices from a single view.
It's now easier to spot which lights are on, thermostat settings etc.
Siri and Siri are still not on speaking terms, but hope is in the air with a new smart home connectivity standard called Matter.  It allows home devices to work across multiple platforms.
I've always wished Home app worked as well as intended.  For years I have found it to be glitchy, cumbersome and unreliable.   The bad Home app experience starts with having to scan a new home device to activate it.  On many occasions, the Apple code is only visible when you unplug the device.
That idiotic flaw makes it next to impossible to install without manually adding the code each time.  It's a real shortfall that has my attention focused on using Alexa instead of home automation.
Let's just say there is lots of room at Home for improvement with this native Apple app.
When will iOS 16 be available?
iOS 16 will be available in Fall 2022.
Will my iPhone get the iOS 16 update?
According to Apple's iOS 16 preview page, the following phones will be eligible for the iOS16 update
What's new with iPadOS 16?
iPadOS is making your iPad act more like a desktop PC.   On the iPad, you'll be able to:
go to your messages and have a document available to a group to be edited/updated in real-time.
You can collaborate within FaceTime and everyone can join a tab group.
The center of this collaboration discussion is around a new collaboration tool called the Freeform app.
What is the Freeform app?
Coming later this year, Freeform app will provide a space to collaborate – on a freeform board – like a whiteboard.  You'll be able to share notes, photos, and diagrams with people located anywhere.   Imagine a giant whiteboard where you can simultaneously contain everything in one session – photos, video, audio, docs, pdfs, web links.  It's Apple's idea – and a smart one – at creating the perfect brainstorming tool.
When will iPadOS 16 be available?
iPadOS 16 will be available in Fall 2022.
Will my iPad be able to run iPadOS 16?
According to Apple's iPadOS 16 preview page, the following iPads will be compatible
iPad Pro (all models)
iPad Air (3rd generation and later)
iPad (5th generation and later)
iPad mini (5th generation and later)
What features are you most excited about?  Comment below!
Related: