With so many antivirus software programs on the market, it's hard to know which is right for you. With new scams and increased amount hacks popping up all the time, it's important to protect your personal information and devices.
We've picked our Top 5 best contenders when it comes to Antivirus Software for 2022.  We've made it easy by breaking down the prices, pros, and cons, and giving my top overall pick.
Why install Antivirus Software and Apps?
As technology improves and grows every day, so does the chance of your private information getting hacked.
The goal of Antivirus Software is simple: to prevent, detect, and remove any malware. Cybercriminals create malicious software with the intention of damaging or interrupting the data on your device.  It's the best layer of protection between you and the malicious attacks that target all of our devices.
CyberGuy's Top Choices for Antivirus Software:
TotalAV – [2022 BEST CHOICE WINNER]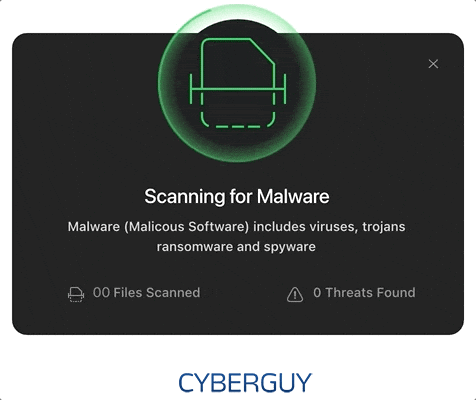 PROS
Easy setup
Paid users receive real-time protection
Phishing scam protection
Ransomware Protection
System tune-up tools
Disk cleaner (find out which files may be wasting space and remove from your computer)
Browser manager and cleaner
Protects Windows, Mac, Android & iOS Devices
Customer service is very prompt
CONS
Not really a con, but best features like VPN and adblocker only come in paid versions
Only protects up to 6 devices on the most expensive version
PRICE
DEVICES
Up to 6 devices with the Total Security package  (This is the one I chose and use for my family's protection)
Deal: $19 for the first year (80% off)
Related:
Runner-ups
PROS
Offers a free version for desktop and mobile.
Research showed Bitdefender blocked 100% of threats last year
Offers great features including Anti-fraud and Anti-phishing (they help stop the problem before it begins)
CONS
Customer service isn't as easily available to free users, and it isn't free for paid users
Installation isn't as quick – it is a bit of a process to get set up
macOS support is available only with paid plans
PRICE
Plans start at $23.99 the first year
DEVICES
Bitdefender Total Security protects up to 5 devices per year
MacOS, Windows, iOS and Android device protection available
PROS
Competitive pricing (especially for just one device)
Offers VPN on some plans
Norton's Virus Protection Promise guarantees full protection from any viruses or malware or your money back
CONS
Not as strong protection on iOS devices
Safe search feature could use improvement
Only protects 1 device on lowest plan.
PRICE
DEVICES
Norton 360 Deluxe protects up to 5 PCs, Macs, smartphones or tablets
Available for Mac, Windows, iOS, Android, and for PC Gaming devices
PROS
Can protect unlimited devices with its higher-tier Ultimate plan
Also offers VPN with higher packages
Can offer identity protection (identity theft protection up to $1 million, password manager, more)
Easily choose between Real-Time Scanning or a scheduled scan of your files
CONS
Pricing which makes sense considering they are bundling in VPN access (versus offering it a la carte like many of the other companies mentioned above)
Reports in past years have said McAfee didn't block 100% of threats
Parental controls were removed from previous versions and are only available through McAfee Family Coverage
PRICE
DEVICES
PROS
Small-business friendly
Easy to install and use as backup to another Antivirus software if you wanted an added layer of protection
Offers a Browser Guard which you can download and add to Chrome, Firefox, Edge, or Safari on Mac computers, and blocks trackers while browsing websites
Has a VPN plan available for additional purchase
CONS
Doesn't offer as many additional features as other Antivirus software
Real-time protection only available in paid-for version and doesn't have as high a performance rating as other programs.   I note this because many users flock to the free version of this antivirus program. The item to note per their free download page is "After 14 days, your devices and data will not be protected in real-time."  If you're going to protect your devices, you'll want to keep your software up to date looking out for the latest threats. The paid plans are the way to go.
PRICE
$39.99 per year for 1 device, $79.99 for 5 devices
DEVICES
You can protect 5 devices with a Premium plan
Available for Windows, Mac, Android, Chromebook, iOS
Now that you are protecting your devices, take the next step and protect your privacy with the Best VPNs for Browsing the Internet Privately 2022.
Additional ways to protect your devices