She is going to love this Mother's Day (and you) with any of these gifts from our 2022 Best Mother's Day gift guide.  This year, I'm focusing in on new innovative ways to protect mom and make her life easier throughout the year.
Instead of flowers that will be thrown out and forgotten in a couple of weeks, I'm turning toward easy-to-use smart tech that truly touches mom's life every day.   Act fast, some of these deals are limited-time offers and when they sell out, they are gone.
Aura Frames
Aura Mason is the most awarded digital frame.  It's my top pick for value and extraordinary functionality.
The display frame has best-in-class image quality paired with a 9″ screen delivering vibrant colors and brilliant clarity.   There's unlimited free storage where you can send 10,000+ photos from your phone to mom's Aura picture frame.
There are no hidden fees or subscription costs.  Anyone you choose can instantly share memories to your frame from anywhere in the world.
When you buy this through the link here you can get a gift code that lets you ship directly to mom, while you download the Aura app to preprogram and share photos with mom.
Mason comes in a beautiful gift-ready box; no wrapping required. Preload it with precious memories and get other family and friends to do the same.  Once your recipient connects their frame to WiFi, they will see your personalized message and photos. You can even pre-enter WiFi information to ensure a hassle-free setup – all they have to do is plug in and reminisce.
A slightly larger, higher-end design is also a bit more pricy called Smith by Aura featured in the photo above.  Its Ultra HD 9.7" display presents your memories with vibrant colors and brilliant clarity.
---
The Mother's Day gift of TotalAV Antivirus protection will actually keep mom safe and protect her from a variety of online dangers for months and years to come.   I sit here thinking okay, flowers for mom which will be gone in a few weeks,  or something that will truly be protective and caring of her safety.
My mom is bombarded with spam and weird text solicitations that she'll forward to me.  Of course, it is often a link to malware but looks totally legit.  TotalAV would have intercepted all of those.. and now they will come Mother's Day with this gift.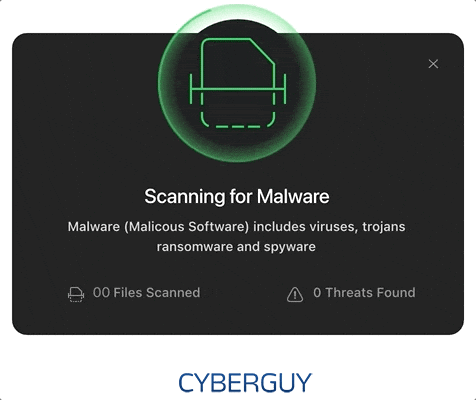 TotalAV won our top choice for 2022 Antivirus protection and rightfully so.  It has the leading ransomware protection, antivirus protection, detects and eliminates malware, protects against phishing scams, adware & spyware and more.
Best is that it works on all devices including Mac, PC, Android, and iPhone & iPad.
This Mother's Day special is exclusive to CyberGuy and is the lowest price ever offered at $14.95 (85% off!) for the first year and is limited to first come.
Act now before it's gone and show Mom how much you love her with something that will protect her.
As a bonus, here are answers to our most popular questions regarding Total AV
---

pixsee is the world's first smart baby monitor with Cry Decoder.   Know the why behind the cry with the Cry Decoder. The Cry Decoder will help to translate the various different cries and their meaning so parents can slowly recognize their baby's needs and feel more and more reassured and confident.
I've seen and reviewed a pile of baby monitor cameras and pixsee is by far the most thoughtfully designed, feature-rich smart baby monitor ever made.
pixsee is a next-level AI Baby Monitor that uses bank-grade encryption for safety.  With pixsee's AI technology, you don't have to do all the work.
The Area Detection feature on pixsee lets mom set a safe zone so you know when your child is moving in or out of it.
She will love Smart Capture. The smart detection technology and advanced algorithms will instantly track and detect your baby's facial expressions, and sweet interactions with the family. It's like having a personal photographer with you all day.
The Smart Music Box feature automatically detects cries and plays soothing music to calm the baby down.
The 6-layer optical glass lens in pixsee features exceptional translucency and precision color calibration for far more authentic images.  And after dark, the revolutionary Nighthawk Nyxel Near-Infrared Light technology enhances image quality, even under low light conditions.
The 160 ultra wide-angle lens with a 4:3 aspect ratio gives you the best perspective with near-zero distortion.
pixsee supports Amazon Alexa smart home devices, so whether you are away in the kitchen or in the living room, simply ask to see pixsee's live camera feed of the baby on any of your devices.
---
Alright, this is one of those things in life you never needed so badly until you have it.  Apple AirTag with Keyring is an affordable way to bring safety and convenience to mom's set of keys.  She'll never lose them again since AirTag helps you keep track of and find the items that matter most like keys, a wallet, purse, backpack, luggage, and more through the Find My app using Apple's Find My app, all while keeping location data private and secure.
Even if her keys are simply guiding nearby at home, Precision Finding can more accurately determine the distance and direction to AirTag through a combination of sound, haptics, and visuals.   Battery life is about a year according to Apple.   You can select from a number of leather keyrings to give alongside the AirTag.
---
There is nothing more important to moms than keeping in touch with her loved ones. With Wristcam, Mom can stay connected and capture treasured memories with her children, grandkids, and girlfriends while staying in the moment, not behind a phone screen.
Wristcam is the pioneering camera system for Apple Watch and the first smartband to receive Apple's  "Made for Apple Watch" designation, allowing users to capture 4K photos and 1080p videos. Its dual-camera design powers live video and offers hands-free control with Siri.
Announced 48 hours ago, now Wristcam can do Facetime-like video calling from Apple Watch with its 8MP camera and 2MP selfie cam.   Coming this summer, a new Wristcam Protect feature will release that allows mom's Wristcam to broadcast live video to her emergency contacts and call for help.  Wristcam is $299 available here.